Bullish Free Articles, Free Articles, Free Trade Alerts
Inovio Pharma Poised To Go On A Nice Run
Summary
Inovio Pharma has a potential solution for the coronavirus.
A lot of $4 call options were bought in yesterday's trading session.
Coronanvirus is making headlines just recently, and stocks like INO have a really good shot at running much higher.
Inovio Pharma (INO) has a nice chart set up which we think is poised to break out. At StockMatusow.com, we look for advantageous trades that in this case, a largely headline driven. Today, the first confirmed case of The coronavirus was reported by The Centers for Disease Control (NASDAQ:CDC)
INO actually has data upcoming for  Middle East Respiratory Syndrome (MERS), which is a form of the coronavirus .
In July of 2019, INO reported positive early data in-human for MERS
Now, these plays aren't investments, but very high probability trades, and we think INO can comfortably reach the $6 level, notwithstanding that its chart has a cup and handle break out set up. Additionally, there were almost 3000 calls bought of the Feb. 2019 $4 and $5 strike on the name today;

The chart below shows us a potential cup and handle break out on the daily chart which is also indicated on the weekly chart;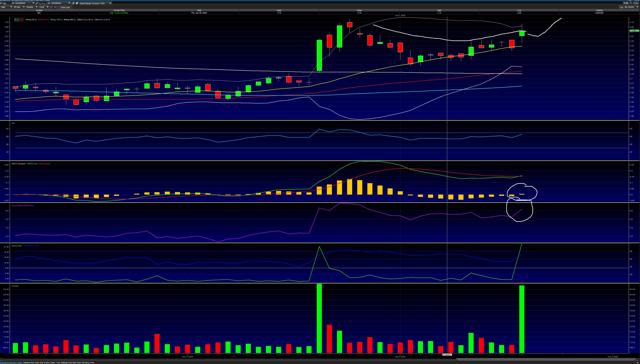 We think the headlines on this coronavirus , INO can reach $6 +.. It also seems options buyers think the same.
Some of our latest picks for ourselves and our subs have brought back huge returns as of late covering  iShares Nasdaq Biotechnology ETF (IBB) and  SPDR S&P Biotech ETF  (XBI) stocks;
Alerted on  Trillium (TRIL) at 35 cents, stock hit a high of $3.90 just recently
Alerted on NovaVax (NVAX) which in the last trading session after hours, hit a high of $10.44, alerted at $4.50
Adaptimmune (ADAP) at $1.35
Five Prime Pharma (FPRX) at $4.50
Synlogic (SYBX) at $2.35 and a few other non-biotech plays as well.
Disclosure: I am/we are long INO, NVAX, FPRX.
FPRX Article Preview (Subscribers Only) Texas Mineral Resources: Rare Earth Play Chart Poised To Breakout