Alert: I bought ArQule Inc. $ARQL
ArQule Inc. (ARQL) Price: $2.86 Market Cap: $178.30M My price target opinion into January 13, $4.00
Catalyst: Tivantinib
ArQule has advanced into Phase 3 clinical development with its lead product, tivantinib (ARQ 197), an orally available, small molecule that inhibits the c-Met receptor tyrosine kinase without competing with ATP for its binding to this kinase. C-Met is a promising target for cancer therapy, as evidence suggests that it plays multiple roles in cancerous cell proliferation, tumor spread, new blood vessel formation and drug resistance. The company believes that the inappropriate expression of c-Met in many cancers and its involvement in multiple signal transduction pathways affecting tumor growth and metastasis render it a compelling target for cancer therapy.
Company is currently running a Phase 1/2 randomized trial of Tivantinib in combination with irinotecan and cetuximab for 2nd/3rd- line metastatic colorectal cancer. Company has moved the drug into a Phase 2 trial following promising Phase 1 data. Data is expected around the end of this year or early 2013.
"Patient enrollment in the MARQUEE trial is continuing as planned, and we are on schedule to meet our key timelines in non-small cell lung cancer and our other trials," said Paolo Pucci, chief executive officer of ArQule. "Our primary objectives with tivantinib in 2012 include:
Completion of patient enrollment in the MARQUEE trial;
Interim analysis of data from the MARQUEE trial;
Peer-reviewed presentation of final data from the randomized Phase 2 single agent trial in hepatocellular carcinoma;
Decision regarding expansion of tivantinib Phase 3 program;
Completion of patient enrollment in a randomized Phase 2 combination trial with irinotecan and cetuximab in colorectal cancer;
Evaluation of data from the open label Phase 1 combination trials with sorafenib and gemcitabine, respectively, in multiple tumor types.
Pipeline and Discovery Platform
"Progress in other programs will focus on the following activities:
Completion of enrollment in the Phase 1 trial with ARQ 736 and data read-out from this trial;
Continuation of enrollment in the Phase 1 trial with ARQ 092;
Completion of pre-clinical development of a candidate from our FGFR program;
Prosecution of our AKIP™ discovery collaboration with Daiichi Sankyo.
Financial Position
"At the end of 2011, ArQule had $108.6 million in cash and marketable securities," said Mr. Pucci. "During the past year we received non-dilutive milestone payments from Daiichi Sankyo related to dosing of the first patient in the MARQUEE trial, from Kyowa Hakko Kirin related to dosing of the first patient in the ATTENTION trial, and from Daiichi Sankyo in connection with the licensing of ARQ 092. We expect that our available cash and marketable securities will be sufficient to finance our working capital requirements through 2013."
Share Statistics
Avg Vol (3 month):
1,202,790
Avg Vol (10 day):
475,650
Shares Outstanding5:
62.34M
Float:
58.53M
% Held by Insiders:
6.05%
% Held by Institutions:
77.30%
Shares Short (as of Nov 30, 2012):
3.25M
Short Ratio (as of Nov 30, 2012):
6.40
Short % of Float (as of Nov 30, 2012):
8.10%
Shares Short (prior month):
2.75M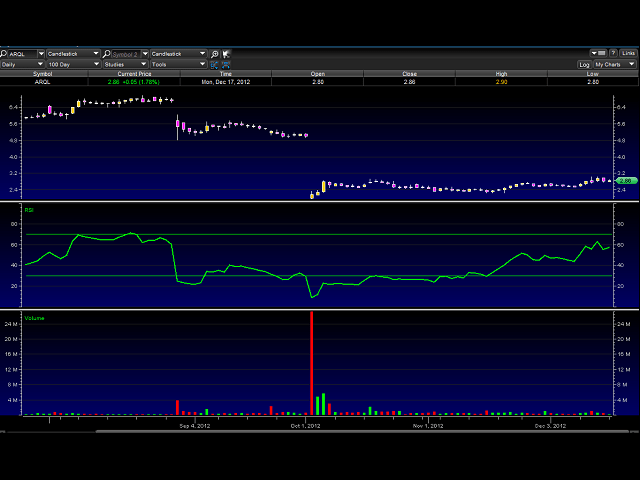 RSI and price trend turning up, looks like accumulation ahead of data. This one has been under the radar. Any good coverage of it and it can really run hard and fast.
Price target again is somewhere around $4. Company has good cash position. enough to last well thru 2013.
Ziopharma (ZIOP) Trading Thesis ArQule: A Strong Speculation BioPharma Poised For A Quick Move Up On Near Term Catalyst